Children In Need

On the 15th November we joined in for Children In Need. Lots of us wore spots and Pjs and donated a £1 to Children In Need. We also had homework to bake buns which we would sell for the day. What an amazing contribution! The staff room was full to the brim with buns, biscuits and cakes. Thank you so much for all your hard work!
Odd Socks – Anti-bullying 2019

Thank you to everyone who wore odd socks today in support of Anti-Bullying day 2019.
Throughout the day children have been doing various activities to promote that change starts with us. We have the power to be kind and make good choices. Foundation 2 wrote nice empowering statements about each other. Year 1 made odd sock puppets and used them to role play being kind and Year 2 turned a mean poem into something beautiful. Well done everyone. Mrs Nota was very impressed with how hard you worked.
Poppy Homework
A huge thank you to everyone who completed their half term homework to design their own poppy. Some of the work has been included in a Rememberance Display in the window of the Co-op Funeral Care at Wickersley. If you're passing, see if you can spot yours!
Children's University
A huge thank you and well done to our Children's University Representatives Harry and Alice who demonstrated how to login to the online system. Usernames and passwords will be sent out shortly so that children can log in to see their points and also upload their codes to gain even more points. If you need any help, then Harry and Alice are on hand to help.      
Well done to everyone who collected points for completing extra learning outside of school time. Make sure you keep it up! We have a wide range of clubs on this year!
Bingo Night
The next Bingo Evening is on Monday 18th November at 7pm. The past few Bingo Evenings have been  a lot of fun for all so why not give it a go? Bring your own bottle and have a game of bingo!
Parent Voice
The next Parent Voice meeting will be held on the 14th October at 9am. Please meet in reception. As always we welcome both new and old members to come along and have their say on views and school matters as well as helping the school with fund raising, having a good natter while doing something good for the children of Thurcroft.
Nasal Flu Vaccine
If you  would like your child to have the  nasal flu vaccine in school please follow the link and complete the online consent form by November 4th 2019. The vaccine will be given on the 8th November to FS2, Y1 and Y2 children if consent is given. If your child has already had the vaccine since September 2019 they will not need to have it again. https://www.nhsimms.uk/FLU/information?Id=106898&Type=FLU
Attendance
Well done to everyone who managed to receive their 100% Attendance Award for the WHOLE Year. What an amazing achievement!
Robotics at Magna
Some of our Year 2 pupils went to a Robotics Event at Magna on the 1st July. They had a great time learning about what the VEX IQ is all about. They took part in building robots and took onthe VEX IQ challenge with another school.
Picture this!
Have you seen our amazing display at Magna yet? Lots of the children's work is on showcase at Magna this month. Go and check it out. We are very proud of all your hard work.
Dementia UK
Thank you to everyone who came to the coffee morning and Bingo Night. A special thank you to Mark Turner and Julia Burgin of Co-op Funeral Care in Wickersley who supplied tea, coffee and biscuits in support of the Time For A Cuppa Event for Dementia UK. We raised £344.05 altogether. Thank you again for your support.
Road Safety
The children enjoyed their Road Saftey assembly yesterday after the F2 children were able to visit a fire engine! We are glad that so many of you went to talk to the staff after school and many of you took something reflective home to help you to be bright and be seen.
Granny Norbag
Author Malcom Hogan came in today to talk to the children about his Granny Norbag books. It was an exciting session and children were able to buy signed books from the man himself!
100% Attendance This Term!
Look how many of you superstars came to school  EVERY day last term! Amazing!
Let's hope that all of the bugs have gone and we are refreshed and ready to have even more of you up here next time!
Easter Egg Winners
Well done to everyone who took part in the decorate an Egg for Easter homework. There were some really amazing entries, we can tell how hard you worked. Well done to the winners who were chosen by a school governor. All winners received an Easter Egg.
Thurcroft News Part 2
Red Nose Day
On the 15th March 2019 we celebrated World Book Day in school. We asked the children to wear something red and voluntary contributions of £1 were welcomed. Thank you everyone who took part!
World Book Day
We had an amazing time on World Book Day on the 7th March. Firstly we started the day with a Bookie Breakfast, where Children and their grown ups were invited to enjoy breakfast while sharing a book. The adults in each class dressed up to suit a certain Author. We then swapped classes throughout the day to take part in different activities based on these authors, we've made clay, bookmarks, puppets, done some creative writing… all sorts!
The Children who dressed up also looked AMAZING in their creative outfits. So thank you everyone for taking part.
Dinosaurs Come to Life
We had such a fantastic time making dinosaurs come to life with the CLC workshop today (12.02.19). Look at the amazing creations from the children and their adults! Aren't they superb!
Year 1 at Wales
Well done to the year 1 children who represented us at Wales High on the 8thFebruary. You did an excellent job at representing our school.
Conflict Resolution
Mrs Foxley Johnson came in today to work with the children on conflict resolution. She helped the children to see how situations can escalate and how best to calm them down and resolve them. Posters are in class to help the children remember these steps. Even when we are angry, we have a choice, lets make the right ones!
The First Edition of Thurcroft News
Rotherham United Visit Year 2 – 16.01.19
Gary Webb and Dylan Parkin from Rotherham United Visited Year 2 today to support their Sporty topic. They were looking at how to be a good footballer and how to stay healthy, so the gents were on hand to answer their questions.
Mayors Visit for Christmas Dinner and Jumper Day
We were very honoured to have a very special guest in the form of the Mayor of Rotherham for Christmas dinner today. All donations received will be going towards the Mayor's charity. Thank you for your support.
Christingle Service
On Thursday 13th December F2-Y2 attended St Simon & St Jude Church in Thurcroft for our annual Christingle Service. All of the children took part in songs and lighting a Christingle. Well done everyone on your beautiful singing and good behaviour which will have been noticed bythe local community.
School Council
The School Council have invited the Mayor of Rotherham for Christmas Dinner which is also our Christmas Jumper Day. We are excited and very pleased to say that he is taking time out of his busy schedule to visit our school. Well done to Ben, Layla, and the rest of the council for making such a good impression. Monies received for Christmas Jumper day will go to the Mayors Charity.
Children In Need
We raised £553.79 for Children in Need from our wear something spotty and also the bun sale.Thank you so much for all of the contributions!
Waka Waka Children In Need
Live and Learn Sport come in to lead some of our PE lessons in school and also to take Zumba sessions at dinnertimes to keep the children active. Have a look at the amazing routine.
Playground Leaders
10 Children applied and were trained by Ann Foxley-Johnson. These children have a special role to make our playtimes a happy time. We are so excited!
Odd Socks Day – Anti Bullying Day
We wore Odd Socks in support of Antibullying day to demonstrate that it is ok to be different as we are all unique. We had a fun day which supported a very important message. We also have been awarded Gold for the AntiBullying Award which we are super proud of. #Choose Respect!
Poppy Cascade
We worked with The Willows and the local community to create this beautiful Poppy Cascade for Remembrance Day. Doesn't it look amazing? Thank you for the parent help involved in creating the clay poppies.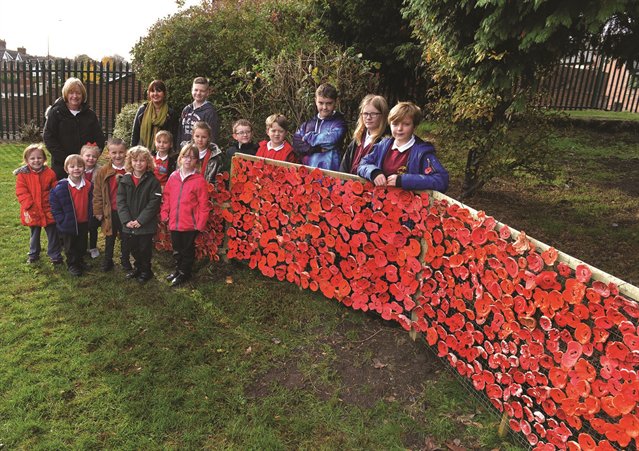 https://www.rotherhamadvertiser.co.uk/news/view,thurcroft-children-unveil-poppy-tribute_29361.htm We even made the news!
Harvest Festival
Thank you to everyone who made a contribution to the Harvest Festival. We have received thanks from Food Aware who donate the food to the Food Bank in Maltby to help the less fortunate who are local to us. You should be very proud of yourselves, we definitely are!
Pantomime
Thank you to M&M Productions for yet another amazing show. We loved the Snow White Performance, especially Mrs Gibson and Miss Shaw dancing!
Picnic Lunch and Sports Day
Horray! The weather held up and we managed to have a brilliant Picnic Lunch and complete Sports Day without any rain! The children started their early afternoon with their picnic lunch outside on the grass. Everyone enjoyed sitting outside eating their picnics together. We then had a really successful and fun Sports Day at the Junior Academy with Mr Richardson and Mrs Hiner. Well done to everyone who took part – you all worked so hard and did us really proud.
Mat Ball Competition
We are very proud of all of the Year 1 children who represented us at Wales High School for the Mat Ball Tournament. You did us all very proud.
Rowdy Robots
Well done to all who attended the Rowdy Robots sessions. It was great fun and the outcome was some amazingly brilliant robots! A bigger well done to the winners, Design winner Alfie and Race winner Samuel.
A Royal Dinner
To celebrate the wedding of Prince Harry and Meghan Markle we had a royal wedding dinner. Those who had the option were given a special crown and there were wedding activity sheets for everyone to enjoy.
New Trim Trail
The wait is over and we don't have to be tortured in suspense anymore…our brand new and improved trim trail is now ready and being fully appreciated by all. Luckily at the end of last half term we had some lovely weather which allowed us to get out and make the most of the new equipment.
Super Mum!
A huge well done to Ben's mum who ran the 'North Lincolnshire' half marathon. She ran a whopping 13.1miles to raise awareness for the Spinal Injury fund.
Brand New Spar
Selected children were at the grand opening of the newly relocated Spar in Thurcroft. We were joined by local businesses and  the Mayor of Rotherham,  Councillor Eve Rose Keenan for the official opening of the Spar and Greggs store. What a fantastic event for the children who attended to be apart of! We were all then even luckier to be given some tasty fruit from the SPAR which we all enjoyed at playtime. Thank you!!!
Outdoor Learning in the fab weather
Year 2 made the most of the glorious weather and took their learning outdoors. Lets hope it's not the last of it!
BBC Breakfast – Shakespeare Week – Book Launch
We were LIVE on the BBC this morning, launching the Shakespeare Week book hunt. Ian Mcmillan came in and we all wrote an amazing poem together! What a fantastic morning. Keep an eye out for the clues as to where the book will be! Where will it end up?
All content is from BBC Breakfast 12.03.2018
Shakespeare Week
Shakespeare Week starts tomorrow and the Big Shakespeare Book Hunt starts LIVE on BBCBreakfast from our very own school with Ian Mc Millan! We cannot wait! Tune in from 7:27am until 8:50am (obviously don't be late for school though) HOW EXCITING!!!!
World Book Day
Please remember that it is World Book Day tomorrow. Miss Thompson is already ready with her Bedtime story.
Attendance
Well done everybody! Today we have achieved 100% attendance throughout the whole school! Everybody in F2, Y1 and Y2 turned up today! Now we just have to keep it up! Pats on the back all round!!!!
Beast from the East
We are sorry for any disruption caused by Thursday's closure. The roads around the school were not safe and there was a lot of ice on grounds. As you are aware, we only close in extreme circumstances and we didn't let the Beast stop us for long!
Coffee Morning
Thank you to all parents/carers who turned up for the Parent Voice Coffee Morning on 23rd January. We had the anti bullying co-ordinator in attendance who was very happy to meet you all. She was very impressed with the discussions we had.
100% Attendence Tree
Have you seen our 100% attendance tree?  It is displayed in the school reception for everyone to see. Come and find your name if you have 100% attendance so far!
Christmas
We had an amazing Christmas at Thurcroft (those who were well enough) as Santa himself came to visit us and bring us all some presents. A delicious Christmas dinner was enjoyed by some of the children and we all had Christmas parties too! What a busy time it was! Well done to everyone for a superb effort in the Christmas Play! Everybody enjoyed it immensely.
Harvest Festival
Thank you for all of the Harvest contributions. We had an amazing display which was taken away to support the local communities.
Halloween
You all looked so amazing when you turned up for the Halloween Disco and Film night. From the two nights we raised; £146.50 from the disco and £395.50 from the film night. Thank you all for coming and enjoying the spooky fun!
Diwali Day
What a huge hit Diwali day was! The children enjoyed celebrating all things Diwali; making Diya's, candles, crafts, sampling food and doing some acting.
Parental Feedback JMAT Parent questions for meeting 17 May 2018 (3) (1)
Attendance Facts
Being in school matters, that's why it's the law. A 2 week holiday during term time takes attendance down to 94.7% without any other absences, this already places the child in the lower category for attendance and reduces their achievement level.
Being in school on time is a positive start to the day. It helps your child get the most from their education and inevitably leads to achievement and success. Good time keeping means… being in school before the registration bell.
Panto!
What a great time we all had watching Jack and the Beanstalk by M&M Productions.
Thank you to everyone who helped and who came along. You really were the 'icing on the cake'. We raised £217.84! Thank you again!   News from 2016/2017 2015/2016